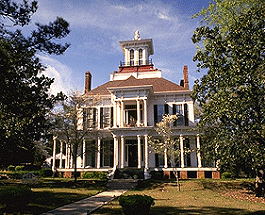 It is 2:30 A.M. as I type this and I'm at work. Thunderstorms are lurking just over the horizon and I'm beginning to feel comfortable with the idea that I may be done flying for this shift. Good.
'Cause this morning when I leave work I'll rush home, pack a bag, load my Bride and two pups in the car, and head South to Eufaula, Alabama to attend a festival there...
"The Eufaula Pilgrimage".
There are several antebellum homes there overlooking Lake Eufaula that will be open for tours this week during the festival. I'm once again meeting several High School classmates for a mini-reunion there. Some of us will fish the Lake. Some of us will tour the old mansions. Some of us will partake of an adult beverage or two, or three. All will visit, share, and smile.
Work has been hard on my bones lately. I need a little break. I may or may not be able to find an internet connection in Eufaula. If you don't hear from me for a few days it means I'm sleeping, smiling, and recharging.
Until you hear from me next, I wish you well.